Assalammualaikum !
( sound system ) #Trett,trett,tretttttttetetet + bunyi drum .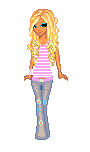 Hello baby besar, baby kecik, baby abah, baby abang tipu-tipu . baby-baby saya semua . haha.. okay fine . tak kelakar . You alls sihat tak hari ni ? kalau tak sihat patut sangat lah jumpa Ckin kat Matrikulasi Johor untuk dapatkan paracetemol free . taknak takpe, Ckin makan sorang-sorang je . okay, korang nampak tak tajuk entry kat atas tu ? Nampak tak ? Nampak tak ? Nampak kan, tapi tak berapa nak faham ............ betul tak baby ?
Here we go .............................. Hot Girls !

*tekan link/gambar untuk tengok page kami.

" OhMyGod ! Online shop ! "
Yes ! You're totally correct ! Ini ialah web online shop . Actually, this online shop is totally belongs to me . Mind to visit this online shop . I already post
2 shoes
for sales . Apa lagi ? pergi laman web tu sekarang sebelum kasut dijual kepada orang lain . You alls jangan risau, Ckin jual barang yang yang kualitinya baik
9/10
. I'm not gonna lie my customers . If you're not satisfied you can complaint it . Harga dia ? gila
Affordable
. I'll give you
50% ++
daripada harga yang Ckin beli kat kedai . Apa yang Ckin jual adalah untuk kepuasan diri sendiri . Ckin nak clear wardrobe Ckin and a few shoes that I didn't use . Ckin ni shopaholic sangat . Bila beli barang tak pernah sikit then tak pakai . So, I got this brilliant idea to sell all of them to someone yang akan menghargai Kasut, Baju mereka . Exactly ! jangan ketinggalan untuk membeli di
SHIKERD-COLLECTIONS
.
we share, we care .
Assalammualaikum